Heike Leiacker - 27. November 2017 - General, Germany, Hamburg, History, Holiday, Knowledge, Traditions
It's time again. In Germany the Christmas markets are opening. Today, the season for many of the big and small ones in Hamburg's quarters begins, too. But the cozy markets that invite to a cup of mulled wine and a bite as well as Christmas shopping are not only a favorite in Germany. The German Christmas market is, like the Oktoberfest, a real export hit.
A German Tradition
Many Germans might not even be aware of it, but Christmas markets do actually originate in Germany. They stem from late medieval sales fairs and markets that sometimes lasted only one day. People here had the chance to buy everything they needed for the winter (for example food and warm clothes). Since the 14th century, toys, baskets and confectionery were sold at the markets, too. The product range also included chestnuts, almonds and nuts. As early as 1310 a Nikolausmarkt in Munich was mentioned in a document.
The oldest documented German Christmas market that is still is at the same place is the Dresden Striezelmarkt. It was first conducted in 1434 at Dresden Altmarkt square and lasted only one day. At the beginning, it was a meat market. The name refers to the baked goods called "Dresdner Christstollen" today. In the past they were referred to as Strutzel or Striezel.
The Christmas market in Frankfurt am Main also has a long tradition. The first Christmas markets can be traced back to 1393. They often took place in combination with mystery plays of the church on Römerberg.
Probably the best known German Christmas market is today the Nuremberg Christkindlesmarkt. There was a pre-Christmas sales fair from the beginning of 16th century and the market was first mentioned as "Kindles-Marck" in 1628.
In Germany's neighboring countries equal fairs and markets were hold early, too. In Vienna, a winter market was first mentioned in 1382. The oldest Christmas market in France is the Christkindelsmärik in Straßburg that is documented as early as 1570.
Something for everyone – Or not?
Obviously, Hamburg has itself a lot to offer in terms of Christmas markets. Nearly every quarter has its own market. It feels as if there are new ones every year. Some are big, offering many market stalls for shopping as well as mulled wine and food. And there are others that are small, with only a handful of stalls. Some are more commercial, others more alternative. Some lay an emphasis on ecological or regional products, others have a topic. The Christmas market Santa Pauli at Spielbudenplatz in St. Pauli calls itself "Hamburg's hottest Christmas market" and refers to the image of the quarter as a frivolous neighborhood. Sometimes there are even are ice rinks or rides at Christmas markets. And many towns hold medieval markets. In short: There should be something for every taste.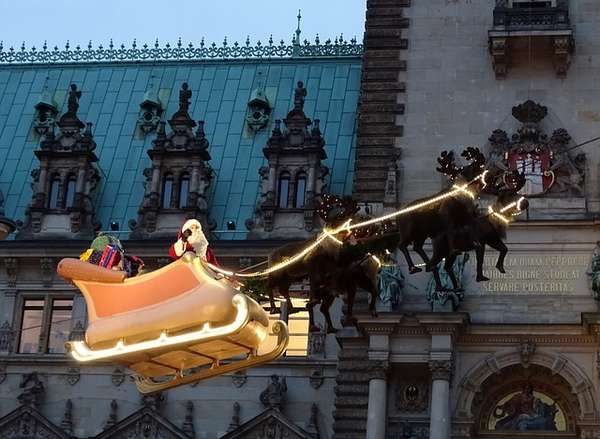 A regular Christmas market tourism has evolved. Trips to Christmas markets are offered, within Germany but also from foreign countries. Christmas markets generate billions in turnover and sectors like the hotel industry, gastronomy and retail benefit. But you can also see the almost inflationary multiplication of markets critically. The share of real handcraft diminishes, many products are imported. Also, Christmas markets seem to start earlier every year. Many open even before the Sunday before Advent on which the dead are commemorated in Germany. It is a so-called still holiday that is subject to restrictions.
German Christmas markets all around the world
However, he interest of foreign countries is unwavering. German Christmas and German Christmas markets are for many the embodiment of coziness. They are associated with mulled wine and burnt punch, with nutcrackers and incense smoker (of the Erzgebirge), gingerbread and stollen.
Accordingly, Christmas markets have become export hits like the Oktoberfest. Often they are even called and promoted as German Christmas markets. Most of them emerged in the 1990s; frequently they stem from town twinnings or can be found in cities with large German communities.
From the large number of Christmas markets worldwide, we can only mention few:
How do you feel? Are you looking forward to the Christmas market season and will visit one or more markets? Or is it all too much for you? In any case, we wish you a very relaxed and reflective pre-Christmas period!