Andrea Bentschneider - 06. August 2015 - Birthdays, General, Personalities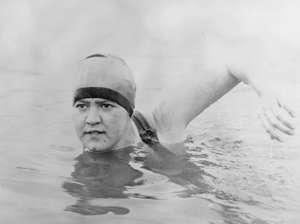 Sometimes you need a hero, an empowering story about courageous people. And where else should I look for one if not in history?

In 1926, the first woman ever crossed the English Channel. Gertrude Ederle, the American daughter of German immigrants, had allegedly learned how to swim in while visiting friends in Swabia at the Bissinger Lake and set her first world record of 800m freestyle at age 12. Numerous world records followed, Olympic medals too, and finally the legendary crossing of the Channel between Cap Gris-Nez and Dover.

It took Gertrude only 14 hours and 32 minutes which was two hours less than the record keeper by then. The so-called "Queen of the Waves" was subsequently named honorary citizen of New York City and greeted back home with a parade. Her career was even more remarkable considering it wasn't easy for female swimmers back in the 1920s: Only a few years back they had to protest for the allowance to swim without stockings, and it wasn't long ago that the development of the bathing suit had enabled women to swim professionally in the first place.

"People said women couldn't swim the Channel, but I proved them wrong." Trudy's exceptional athletic performances were not the only admirable side of her. After an accident in 1933 that left her paralyzed and bed-ridden for years, she trained so hard that not only she learned to walk, but also to swim again eventually. Being deaf herself since her childhood, she taught deaf children to swim after her professional career was over.
If this isn't a motivation to give 100% again today!!