Andrea Bentschneider - 06. June 2016 - Emigration, Genealogy, German-American, Hamburg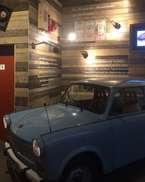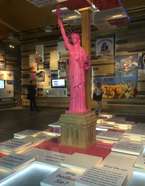 For every genealogist the Ballinstadt Emigration Museum is one of the where to go addresses in Hamburg. On the spot where ship owner Albert Ballin once built "Emigrants' Halls" for those leaving the country in which they could wait for their departure, "BallinStadt" was erected in 2007.
Now it was about time to put a new coat of paint on it. After a phase of rebuilding that lasted several weeks, including planning, fiddling around, the moving of props and revising of text panels, the museum reopened – initially by invitation only – its historical gates on May 13, 2016.
More than 200 invited guests arrived in bright sunshine for the opening ceremony on the Veddel to get a look at the redesigned museum. Champagne and nibbles had been prepared so that visitors could quickly take off on their first round through the halls before general manager of the museum Volker Reimers and Hamburg's mayor Olaf Scholz, among others, addressed them in the early evening hours.
The revised and extended exhibition at "BallinStadt" is habitually fond of props but presents some innovations. The exhibition now also seizes on the contemporary debates about immigration and refugee crises which are so prevalent at the moment. It attempts to comprehend the motives – then and now – of people leaving their native home, their expectations on and individual fates behind emigration.
The exhibition also aims to highlight the different facets of the term "migration": visitors can, for example, learn about the internal migration of so-called "Republikflüchtlinge" (those fleeing the German Democratic Republic) right next to an old Trabant (the iconic East-German car). They can also test whether they would have gained entry to the United States back then by answering the historical questionnaire – all under the watchful eye of the Statue of Liberty, illuminated in bright pink.
Regarding the fact that the "BallinStadt", as one of the few German Emigration Museums, ought to aim at attracting anglophone visitors interested in their ancestors' emigration from Germany, it is somewhat strange that the museum's text panels are exclusively in German.
For those who would like to form their own opinion – the "BallinStadt" is reopened since May 14, 2016.