Heike Leiacker - 01. June 2017 - Family, General, Germany, Holiday, Knowledge, Traditions
Even if there are no two states any more, there are still differences between East and West Germany. There are structural inequalities, but there are different traditions as well, for example in celebrating. For instance, on 1 June is Children's Day. One of the Children's Days, to be more accurate. In fact there are two Children's Days that are celebrated in Germany. International Children's Day on 1 June and Universal Children's Day on 20 September. The first of them is of greater importance in the eastern parts of the Country.
Children's Day and celebrations during childhood and youth
How did those two days come about? Special Children's Days are known since the beginning of the 20th century (the first one was established in Turkey in 1920). From 1950 onwards, the socialist states and with them the former German Democratic Republic (GDR) celebrated the International Children's Day. It was supposed to call attention to children's rights, but was shaped ideologically. Soon on the other side of the border another Children's Day emerged. In 1954 the Universal Children's Day was resolved by the United Nations. It was also about children's rights. The countries were free to pick a date to celebrate it. In the Federal Republic of Germany (FRG) 20 September was chosen.
What happened on Children's Day? Not much in the FRG, for a long time it was hardly noticed. There were some activities to call attention to children's rights worldwide, but no larger celebrations for a long time. On the other hand, in the former GDR the day was a highlight for children. Their parents and educators didn't only congratulate them, there were presents as well. And there were parades and special programs as well as celebrations that were organized by schools and children's facilities. As part of the parades the children had self-made sticks with flowers on them (lilac).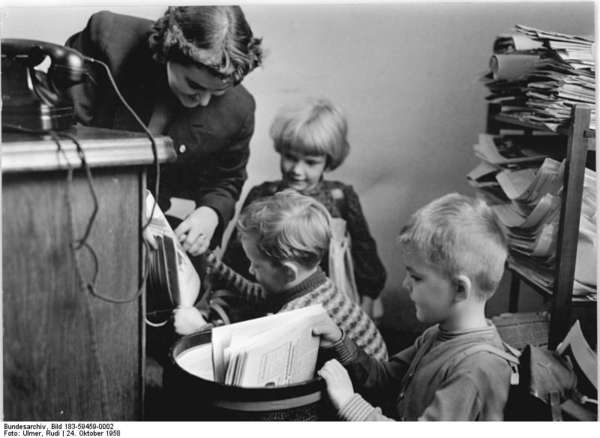 And today? At first, after the reunification only Universal Children's Day was officially celebrated in September. But International Children's Day remained important in the eastern parts of Germany. Therefore both are celebrated today. In many cities there are celebrations and special activities. For children it's quite nice to live in East Germany. Here, they can still hope to get small presents and to celebrate according to family traditions. Often there is also a project day at school or day care center. Sometimes there are still parades. In West Germany Children's Day is comparatively insignificant. Many cities host celebrations and activities though.
But Children's Day isn't the only day that shapes a child's life in a different way in East compared to West Germany. There are, or at least were, differences in the celebrations of school enrolment for example. In East Germany it tends to be more important. Usually it is celebrated on a Saturday, at school as well as with a large gathering of family and friends. When I was enrolled in Northern Germany, it didn't happen on a weekend. Of course I had a School Cone (a German tradition), was dressed well and I know that my grandparents were there, but there wasn't a larger celebration. In fact, enrolment – at least today – is even in West Germany often on a Saturday as well and the celebrations do become bigger. But there still seem to be differences.
Many know about Jugendweihe as well. This is a celebration in which teenagers are given adult social status, usually around the age of 14. Alongside with catholic or protestant confirmations there were free religious or later also proletarian Jugendweihen since the middle of the 19th century. Today most people in Germany still think about the former GDR when they hear the word. In 1955 Jugendweihen were first performed by the SED (Socialist Unity Party of Germany). Later there were only few teenagers who didn't participate in the celebrations, as they had to fear negative consequences. In advance there were special classes. During the ceremony itself, you had to solemnly vow to be true to the socialist state and you would get a certificate, a carnation and a book (that was of course ideologically fitting). But it was also a family celebration and you would get presents. Despite the fact that it was ideologically charged in the GDR, the tradition of Jugendweihe was continued with after reunification. Without the classes and vows of course. It consistently existed in West Germany anyways. Nonetheless these celebrations of the transition into adulthood that are mostly for undenominational teenagers are still far more popular in East Germany.
Parents are celebrated in different ways as well
Mothers or rather women have still a little more to celebrate in the eastern parts of Germany. Today Mother's Day is German wide celebrated on every second Sunday in May. In the former GDR this was officially rejected as a reactionary custom. Unofficially it was still often celebrated among family. In contrast International Women's Day on 8 March was an important celebration. It was supposed to, at least superficially, promote gender equality. In West Germany it wasn't very important as a day of celebration. But in the former GDR there were corporate parties, honors, flowers or even promotions. Even today it is still customary to congratulate women on Women's Day or to give flowers to female employees.
For the sake of gender equality there is still Father's Day to be mentioned. In East Germany it is often called Herrentag (Gent's Day) or Männertag (Men's Day). It is celebrated in Germany at the same day as Ascension Day. This is true for West and East Germany. When Ascension Day was abolished as a bank holiday in the former GDR, the men even continued to celebrate "their" day. In more religious parts of Germany the Christian holiday is typically celebrated with processions. Especially in East Germany there is in contrast still a tradition of men's trips – usually you don't have to be actually a father for this. Often these are walking tours and alcohol is involved. In some regions there might even be a tradition to give presents to all male relatives. However, there is also a tradition of men's trips an alcohol in Northern Germany – usually walking tours or bike rides.
Basically you might say there are not only differences between east and west, but also regional and especially family differences. And if you have a look at other countries there is even a wider range of traditions (and dates) for celebrating the above mentioned days.
How do you celebrate?