Andrea Bentschneider - 29. September 2015 - Celebrities, Family, Genealogy, General, Hamburg
When Justus and Frieda got married on a Thursday in June 1907, they had no idea they would later have a daughter that would write Hollywood history!
Justus Samuel Bergman, a Swedish man from Stockholm, married the Hamburg resident Frieda Henriette Auguste Louise Adler on 13 June 1907 at the civil registry office 3 in Hamburg-Eimsbuettel. It was a sunny, although with 20° C not too warm summer's day, when the two entered into marriage, traditionally at the bride's place of residence.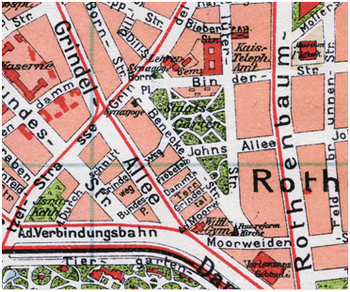 The civil registry office was not far from the bride's apartment that according to the marriage record was located in Grindelallee 6. On the historical map Binderstreet can be seen on the upper right, where the civil registry office was, whereas Grindelallee is not far at all. The bridal couple could have made a nice walk in the sun to their appointment. What is today the university district of the city, was different back then: The Hamburg University was only founded twelve years later. The zoological and botanical garden however where close back then. The Grindelquarter was also a Jewish quarter with a big synagogue that sadly got destroyed later in Nazi times.
After their wedding, the Bergman couple moved to the groom's place of origin, Stockholm. There, eight years later, in 1915, they gave birth to a daughter that was named – maybe you have guessed it already? – Ingrid. It was the Ingrid Bergman that later won three Academy Awards and wrote Hollywood History with Humphrey Bogart in the classic movie Casablanca. Unfortunately, the story of Ingrid's parents did not develop quite as well. When Ingrid was three years old, her German mother died. After her father married again, she moved in with her uncle… For us it is always interesting though how many interesting ancestry lines lead to Germany, especially Hamburg, where we live and work.