Andrea Bentschneider - 07. March 2016 - General, Old Customs, Recipes, Traditions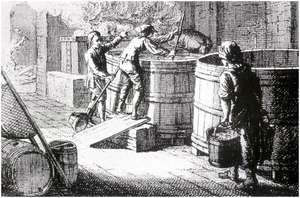 The topic "Eating" and "Nutrition" is (Caution: a pun!) on everyone's lips at the moment.
Be it low-calorie, vegan or lactose-free – there is something to cater for all tastes these days, as long as it's healthy and balanced! Little helpers nowadays are nutrition apps and food 'traffic lights'.
Still, too many people eat too unhealthily. To counter that trend, the Association for Nutrition and Dietetics e.V. (VFED e.V.) in Germany introduced the "Day of Healthy Eating" in 1998. This day of action is made aware of on 07 March every year since 2007. It follows a different motto each year. In 2016 there were various events taking place surrounding the topic "Oncology."
Our ancestors were definitely much less concerned with the topic of clean eating or health food as we are today. Back then food was primarily meant to stave off hunger and give energy for a hard day's work. The range of foods offered also obviously was much smaller: A majority of the population in the 18th and 19th century was self-sufficient and lived off agriculture and their farms. Not until the opening of new trade routes did the range of foods offered widen.
But one – well, let's call it – "food" our ancestors were not willing to deny themselves: As the cultivation of barley, hop and the like was possible here as well they liked to brew their own private beer back then.