Current issues
Beyond History
Stresemannallee 90
22529 Hamburg / Germany

Telefon: +49-40-46 77 77 35
Telefax: +49-40-46 77 77 34

E-Mail: info(at)beyond-history.com

Beyond History – how it all started …
My personal journey into genealogy:
In 1988, I received a photo of my paternal grandmother who had died during the bombings in 1943. It was the first I had ever seen of her. Due to our resemblance, it immediately caught my interest. I felt a special connection and wanted to find out more about this "young girl".
The crucial impulse for the intensive research of my own family I received during the early 1990s with an email from America. A descendant of a certain William Bentschneider who had emigrated from Germany to America in 1854 contacted me. It turned out that I had relatives in the USA. Since then, my own research has produced detailed information of over 2,000 persons in my family.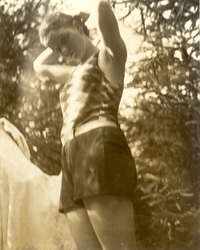 The fascination of genealogy – From Passion to Profession
Today the exciting hobby has turned into an even more exciting profession.
I am in the lucky position to combine my passion for family history and in-depth genealogical experience on a professional level.
Are you toying with the idea to let your personal family history to be researched? Benefit from the years of know-how of our expert team. Beyond History is looking forward to professionally accompany you on your journey into the past.